It's time for Round 3 of our Link Up!
Now is your chance to link up your FAVORITE blog posts! :) I hope to see some awesome projects, recipes, tips, and tricks; also, I really hope all of my readers will participate and help us spread the word! :)
This week I'll be hosting the Link Up myself, but I'm hoping in the upcoming weeks to have some co-hosts to join me!
If you are at all interested in co-hosting upcoming Blog Hops/Link Ups, please contact me!
But before we get to that, I want to remind you all about an awesome Giveaway!!
Who wants to win a Silhouette Cameo?!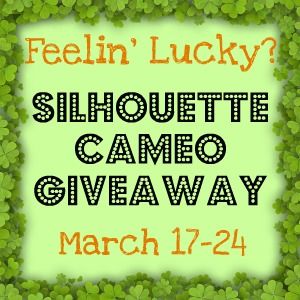 Designing, Crafting, Cutting.
The Silhouette CAMEO is amazingly versatile. It can create intricate projects of all sizes from small (1/4″ wide) to large (12″ wide) and has an unlimited cutting length. It can cut paper, cardstock, vinyl, fabric, and other materials. It operates with or without a cutting mat. When the blade is replaced by a pen, the CAMEO will sketch instead of cut. It can be controlled from a computer or an SD card. With the print and cut feature, the CAMEO also has the ability to cut out designs that have been printed on your home printer.
Easy To Use and Fully Featured: The CAMEO cuts designs created in the Silhouette Studio software. This software is free and offers a wide variety of tools and functions to help create custom projects quickly and easily. The Silhouette Studio software can also manipulate and cut fonts you already have – if a font is installed on your computer, you can use it with the CAMEO.
Whether you're a novice creating a simple gift box, or a pro creating paper castles and models, the Silhouette can make your crafting quicker and easier. Silhouette also offers several tools to help you work with paper products including the pick-me-up tool used for poking out intricate cuts and placing tiny paper pieces onto finished surfaces.
Click HERE to enter!!
GOOD LUCK!
Now, let's get to the Link Up!!